How Does This Test Detect Helicobacter Pylori?
The test measures how many H pylori antigens are present in your stool. The level of antigens shows how much your immune system is currently fighting H pylori.
Someone is considered positive for H Pylori bacteria infection if the antigen level is above 20ng/mL.
If you score under 20ng/mL, then you're considered negative. But, some people may still seek treatment if they score just below 20ng/mL...especially if they have other symptoms that suggest an H pylori infection.
Why Is The Stool Antigen H Pylori Test The Preferred Test Method?
There are 3 reasons why this test is medically useful:
It's easy to do
It's non-invasive
It's extremely accurate
Also, because the test gives granular data (eg. 23.87 ng/mL), it can be easier to judge the effectiveness of treatments.
How Does The Testing Process Work?
We ship you the H pylori test kit
You take a single sample in your home bathroom
Freeze the sample overnight
Ship it back with your free return shipping label
You'll receive your test results electronically
Questions? Call or text: (303) 699-9474
How Does The Test Kit Work?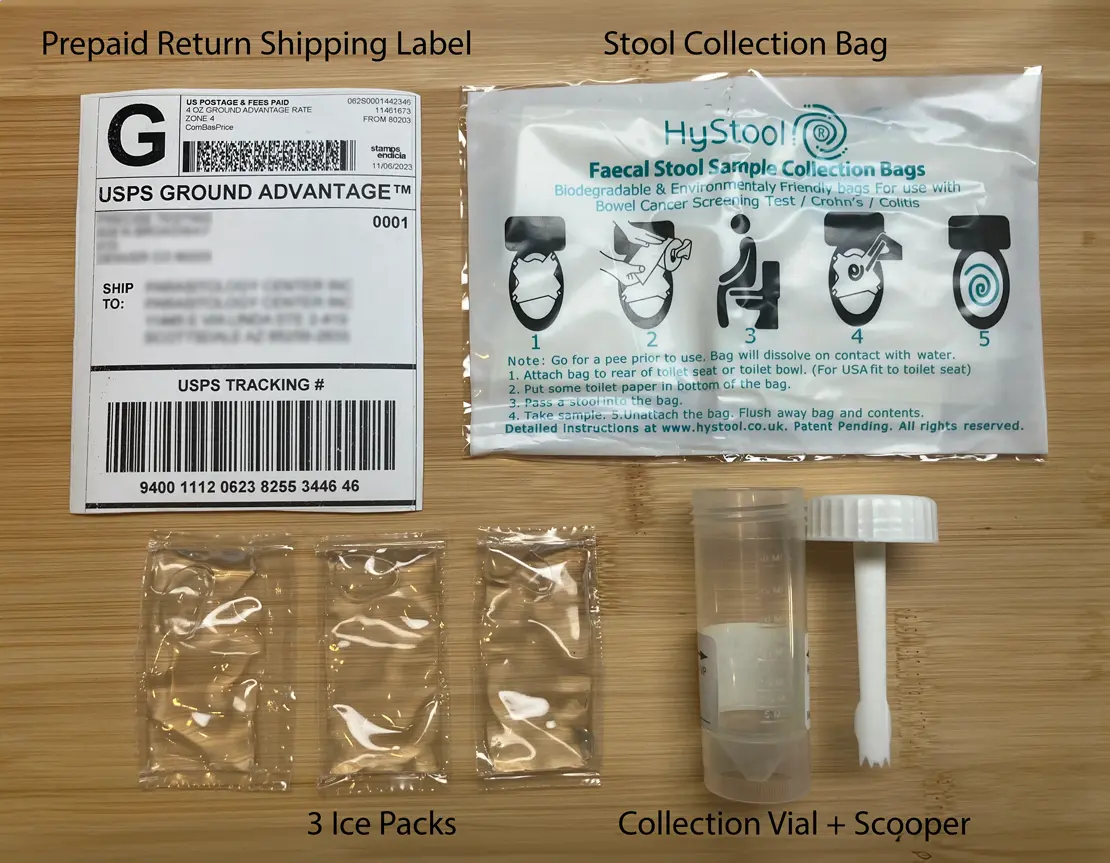 The test kit contains 4 things:
Stool collection bag
This collection bag fits over the toilet to collect the stool sample clean and hygenically.
In the case of loose stools, a different collection method should be requested. Please request it after purchase.
Collection vial + scooper
You just need to collect 1 single sample for this test. A scooper attached to the lid of the vial makes it easy and hygenic.
Ice packs
After collection, you put the vial back in the box. Then you place it in the freezer overnight, alone with these mini-ice packs.
Free prepaid return shipping label
After the samples, use our free return shipping label. This return shipping label activates our tracking system to give you accurate estimates of when your test results will be ready, based on your package's shipping status.
Questions? Call or text: (303) 699-9474
Frequently Asked Questions
How long until test results are ready?
If you ship your samples back with our return shipping label, it will typically be about 24 days until the analysis is complete.
What if I'm constipated?
The test kit won't go bad, so you can wait until it's convenient to take the test.
What if I have diarrhea?
We will share an alternative method for collection, and reemburse you for any costs you incur for purchasing a stool coolection hat.
Questions? Call or text: (303) 699-9474